RD-3000FS SF6 gas leakage monitor system is an intelligent on-line monitoring alarm system, which is designed and developed for providing safeguard to the staff who work in distribution equipment room equipped with SF6 electrical equipments according to the need of safety production in electrical system. The system mainly detects the concentration of SF6 gas and oxygen in the environment. When the concentration of SF6 gas is above-norm or the oxygen is lacking, real-time alarm shall be performed and fan shall be switched on at the same time. It also has the functions of temperature and humidity detection, speech prompting for working status, remote alarm and inquiry of historical data, etc. This system can be widely applied to SF6 switchgears room with different voltage level.GIS room.SF6 main transformer room and other occasions.
Adopts imported SF6 infrared gas sensor with overlong lifespan
Detection and display of the temperature, humidity and oxygen concentration.
RS485 bus topology structure, can realize detection, display, record and alarm of max 200 measuring points
Support the remote output of measurement data though RS485.
Report displays the daily record list for staff inquiry.
Power supply is very wide (185~265VAC), with anti-surge and lighting-proof functions.
Functional units such as infrared detector, sound and light alarm and linkage fan are optional.
SF6 infrared sensor adopts the principle of infrared absorption spectrometry to detect and analysis the SF6 gas. Infrared absorption spectrometry, which is called infrared spectrophotometry, means analyzing the substances quantitatively and qualitatively according to the characteristic that the substances absorb the infrared electromagnetic radiation selectively. As shown in figure 1: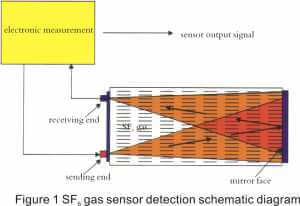 The oxygen sensor mainly detects the concentration of oxygen through the electrochemical principle. Oxygen sensor usually consists of anode, cathode and electrolyte. As shown in figure 2: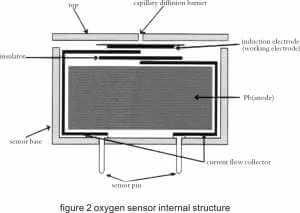 When measured gas reaches the working electrode through the pore at the top, it is reduced at the working electrode and releases hydroxyl ions:
O2+2H2O+4e- = 4OH-
Through the electrolyte, these hydroxyl ions reach the anode (Pb), where the oxidation reaction occurs and generate the corresponding metallic oxides.
2Pb + 4OH- = 2PbO + 2H2O +4e-
The reactions above shall generate current. And the strength of the current depends on the reaction speed of oxygen. The potential difference is measured through an external resistor, and then the concentration of oxygen is detected accurately.
The block diagram of SF6 gas monitoring system: